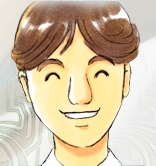 This person visits your home with special items that are not sold in any other places. The items are: Muscle Training Cast (Constitution +10, Willpower +10, 200000 yen), 24-second Diet (Weight -2.0, 150000 yen), Fairy Bra (Cup Size +1, 200000 yen), and Ultra-Electric Beauty Facial Massager (Charm +30, 300000 yen). He will only sell items if you have certain amount of money available at the time of his visit: 200000 yen, 400000 yen, 800000 yen, and 1000000 yen in the same order with the items listed above.


Ad blocker interference detected!
Wikia is a free-to-use site that makes money from advertising. We have a modified experience for viewers using ad blockers

Wikia is not accessible if you've made further modifications. Remove the custom ad blocker rule(s) and the page will load as expected.