Royal Sword

Royal Sword
Vital statistics
Type
Weapon, Prize, Stat boost
Effects
+ 12 Combat Defense, + 50 Refinement
Source
Combat Tournament Contest Prize
Cost to buy
-
Cost to sell
1250 G, several reputations, popularity
The
Royal Sword
is a contest prize in
Princess Maker 2
. It is worth 2500 G. It increases Combat Defense by 12 points and Refinement by 50 Points.
How to Obtain
Edit
Olive receives the sword if she wins first place in the Combat Tournament of the Harvest Festival.
The royal sword is not helpful in a fight; it only raises combat defense and does nothing to make your attack stronger. The Refinement bonus is nice, but it's not combat relevant. This sword is best for wearing at the end game.
The royal sword is the only item which can't be pawned without punishment. Pawning it makes you lose 30 points from Fighter Reputation, 30 points from Social Reputation, and 50% of the popularity you gained from the king and the general.
If you are carrying a weapon at the end of the game, this would be the best one to have on your daughter due to the Refinement increase.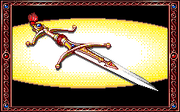 Ad blocker interference detected!
Wikia is a free-to-use site that makes money from advertising. We have a modified experience for viewers using ad blockers

Wikia is not accessible if you've made further modifications. Remove the custom ad blocker rule(s) and the page will load as expected.