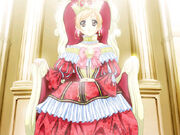 The queen ending is the "ultimate" ending. One of the hardest to get.
Description
Edit
After becoming so smart but charming, and with her state of fame, it is not surprising that daughter was chosen to be the next queen.
Excellent
Stats Required
Edit
'Knowledge '~ :more then 800
'Appeal '~ :more then 600
Pride ~ more then 500
'Moral ' ~ more then 500
'Refinement ' ~ more then 720
'Fame ' ~ more then 720
'Demon Points' ~ Less than 99
Other Information
Edit
Daughter should never worked at the Sleazy Bar or at the Casino.
Ad blocker interference detected!
Wikia is a free-to-use site that makes money from advertising. We have a modified experience for viewers using ad blockers

Wikia is not accessible if you've made further modifications. Remove the custom ad blocker rule(s) and the page will load as expected.