Princess Maker 2
Talk

0
315pages on
this wiki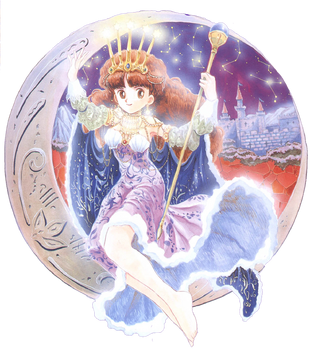 Languages Available In: Japanese, English (Incomplete)
Production
Production History
Produced in 1993 by Gainax...
Mechanical Information
Runs on the following platforms: MS-DOS, Windows, Sega Saturn, PC-Engine, GP32...
English version available as abandonware. Requires DosBox.
Game
Plot
Like in Princess Maker 1, the story begins with a demon army attacking the kingdom, led by Lucifon the Prince of Darkness. A wandering Swordsman (You) sneaks into the camp one night and defeats Lucifon in hand-to-hand combat. He and his armies retreat. The grateful King invites you to stay and grants you an annual salary of 500 gold pieces. Then, one night, the Swordsman hears a voice and goes out to see a girl floating in an orb of light. He is then spoken to by the girl's patron deity who asks him to raise her.
Characters
Palace Folk
Teachers
Bosses
Rivals
Criminals
Supernaturals
Jobs
Olive can work 15 jobs total. However, she only starts with 6 jobs. There are more jobs available as she gets older.
Age 10
Age 11
Age 12
Age 13
Age 14
Age 15
Age 16
Items
Clothes
Equipment
Weapons
Other Items
Locations
In Town
Adventuring
Vacation
Endings
It is possible to get both a career ending and a marriage ending.
Career Endings
General Endings
Social Endings
Fighter Endings
Magic Endings
Art Endings
Housework Endings
Full/Part Time Work Endings
Dark Endings
Marriage Endings