Melody Blue
Image:Melody_image.jpg
Gender
Female
Race
Human (Faerie?)

The daughter that you raise in Princess Maker Legend of Another World.
Background
Edit
Melody is found by the hero, Blue (the player), in the middle of the forest near the kingdom. The Faerie King appears and asks Blue to raise her.
She's often considered the most sensitive and temperamental of the daughters. She runs away very often, even if she has no stress.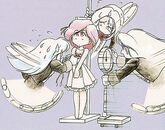 Key to getting a satisfying ending for Melody is to work on the desired stats. These stats can be gained through schooling and either gained of lost in her side jobs. Direct stats in which how the game plays out include;
Constitution
Strength
Intelligence
Refinement
Charisma
Sensitivity
Faith
Morality
Sin
Stress
Art

Also, there are percentages for how sick or delinquent she has become over the course of game play.
Indirect stats that don't effect much of anything in the development of Melody include but are not limited to;
Height
Weight
Bust
Waist
Hips
It was widely assumed by English-speaking players that Melody was a gift from the gods, like Olive, until the game's opening screen was partially translated.
Melody has a wide array of hair colors depending on the game and artwork. In the opening screen of Legend of Another World, she appears as a brunette with blue eyes. In the actual game, as well as in the strategy guide's artwork, she has a dark purple-pink hair color and purple eyes. In Go! Go! Princess Maker, Melody has light purple hair (the same color as Lisa) and blue eyes.
External links
Edit