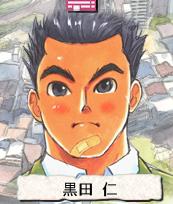 Aya's older brother. Along with Kenichi he is one of the first male friends your daughter meets. His father works at the local cake shop and talking to him will raise willpower. He is chubby at first but gets handsomer when he gets older (when your daughter's appearance first changes). If your Sensitivity is too high he will divorce with your daughter during his marriage ending. If your daughter has a large shimmer on his orb she can be seen walking dog Cube in the park with him, and Cube seems worried about his presence for some reason. Wearing the bunny suit or sexy clothes increases the chance of him getting a crush on your daughter.
Locations
Edit
Ad blocker interference detected!
Wikia is a free-to-use site that makes money from advertising. We have a modified experience for viewers using ad blockers

Wikia is not accessible if you've made further modifications. Remove the custom ad blocker rule(s) and the page will load as expected.