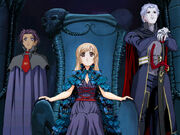 Becoming The Maou is one of the Royal endings in the game, and the only Royal ending including the demon world.
Description
Edit
After getting renown all around the demon world, daughter becomes the Maou after her father.
Excellent
Stats Required
Edit
Stamina ~ more then 420
Knowledge ~ :more then 480
Charm ~ :more then 500
Pride ~ more then 500
Sensitivity ~ more then 480
Martial Arts ~ more then 500
Magic Arts ~ more then 600
Demon Points ~ more then 150
Other Information
Edit
Daughter has to reveal her past, have a good relastionship with Baroa and The Maou
Ad blocker interference detected!
Wikia is a free-to-use site that makes money from advertising. We have a modified experience for viewers using ad blockers

Wikia is not accessible if you've made further modifications. Remove the custom ad blocker rule(s) and the page will load as expected.